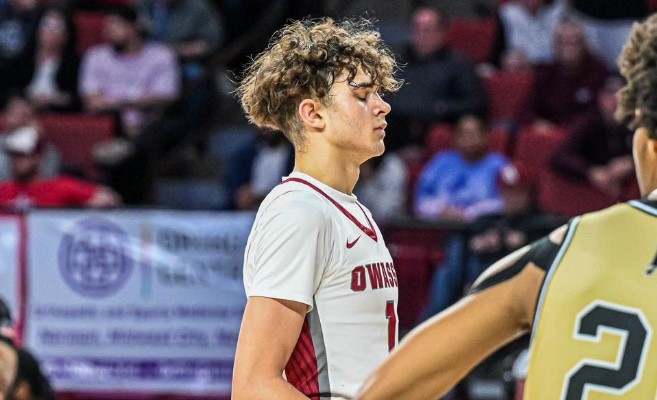 Out in Oklahoma, 2026 Jalen Montonati has certainly carved out his name early on with his play. Coming off a tremendous high school season in which he averaged nearly 20 points, Montonati has seen his stock rise early with his recruitment. He breaks it all down with Phenom Hoops on his game, his focus this summer, and what has been going on with his recruitment early on.
Phenom: How did the season go for you this year? What was your role and what did you want to show about your game?
Montonati: The season was great, ended up averaging just under 20 points with five rebounds and three assists, and as a team, we made it to the state semifinals and no one expected us to go there. My role was to be a main scorer on the offense, and I wanted to show the versatility that I have in my game over the season.
Phenom: How would you best describe your game?
Montonati: A three-level scorer that can put the ball on the floor and can go coast-to-coast on a rebound.
Phenom: What is your excitement about the upcoming summer ball season? Who will you be playing with?
Montonati: I will be playing with Mokan, and I'm very excited to be playing on the EYBL Circuit.
Phenom: What are you hoping to show more about your game with them?
Montonati: My defensive versatility.
Phenom: Recruitment has gone well early. What all offers do you hold currently?
Montonati: I have offers from Oklahoma State, Tulsa, Kansas State, and Oklahoma.
Phenom: Have you heard what they liked about your game early on?
Montonati: No, not much. Just that I have a great future and great potential and to just keep working.
Phenom: Was there any offer that really excited you early on? Knowing it is still very early in your recruitment process.
Montonati: If I had to choose one, it would be Oklahoma State just because it was my first one and it was my dad's alma mater, but all of them had made me extremely excited.
Phenom: Do you know what other schools have shown interest?
Montonati: Michigan, Nebraska, Arkansas, and Kansas.
Phenom: Any dream school? If so, why?
Montonati: It would be pretty cool to get an offer from Arkansas. I like Coach Musselman and what he does there, and their fans are just incredible.