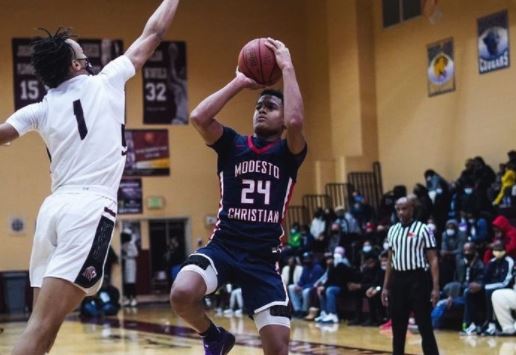 2024 Jamari Phillips was a player that is ranked as a national prospect, and we spoke with him on the Phenom Hoops platform back in January. Phillips is coming off a terrific season in which he averaged 23 points per game and helped Modesto to a 30-6 overall record.
Phillips is also a highly coveted prospect by so many programs and schools are continuing to recruit him. We recently caught up with the talent 2024 guard from California, as he speaks about an upcoming trip, other schools he hopes to visit, and the latest in his recruitment.
Not long ago over the summer, Phillips released his Top 6 schools which included Texas Tech, Oregon, UCLA, Gonzaga, Kansas, and Louisville. He continues to stay in contact with those schools that made the list but that doesn't mean that other schools have been staying away and that he is not open.
"I've been in contact with my Top 6 mostly," Phillips told Phenom Hoops.  "A couple of colleges have contacted me since my last article with 247Sports. I advised colleges to read the article, basically me saying, in the beginning, my recruitment is still open.  I've been getting contacted by Virginia, Kansas State (who recently offered), Arkansas, USC, Texas, and Michigan State.  They all have been staying in contact and Texas, Kansas State, and USC I know are definitely looking to recruit me hard regardless of my Top 6."
When Phillips announced his Top 6 back in the summer, at that time, it was the schools that he felt very good about and had really shown strong interest his way, as well as how he could fi within the program.  Though those schools are continuing to stay strong, Phillips admits things could change.
"Yes, I believe this list can change before I make my decision," he said when asked if his Top 6 could change.
Phillips has plans of making an unofficial visit to UCLA this upcoming weekend (Sept. 30-Oct. 2) and there are other schools that he hopes to make visits.
"USC, Kansas State, Kansas, UCLA, Oregon, Louisville, Texas, and Texas Tech," are the schools that he mentioned he hopes to visit but no dates have been set outside his visit to UCLA.
When asked about when he may be looking to ultimately decide, Phillips mentioned he is targeting between February and June.