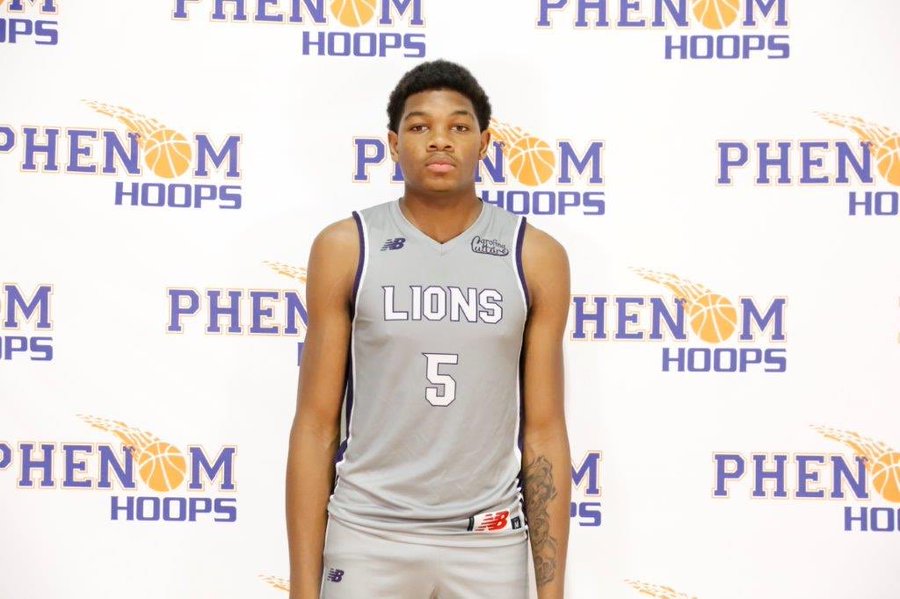 College coaches certainly love big or prospects that can make a difference on the offensive end but they certainly don't mind having a player that can make an impact on defense, erasing opponents' opportunities to score by blocking shots. In the class of 2022, there are multiple names that could be found on the updated Phenom Hoops rankings that can help man or eliminate those scoring opportunities. There are just five guys that you will want to know.
2022 6'10 Brandon White (Winston-Salem Christian)
White comes in at No. 5 in the latest Phenom Hoops' rankings for a reason, as the 6'10 big man has steadily shown improvement in his game and is now one of the top big's in his class. White brings a lot of intrigue with his impact on both ends of the floor, bringing power and touch on the offensive end, but also being a defensive presence. He has a tremendous wingspan with his growing frame and he knows how to use it to his advantage, getting on the boards but also blocking shots all around the paint. Opponents may underestimate his wingspan at times but you quickly see why he can be a big presence around the paint on the defensive end. What is scarry to think is that there is still room to grow.
2022 6'7 Avion Pinner (Riverside)
Pinner ranks second in the state of North Carolina for juniors in blocked shots (from what has been reported on MaxPreps). He is averaging 2.7 blocks per game, as he is having another tremendous season in leading Riverside to an undefeated record. Pinner is an intriguing prospect at 6'7, versatile, and one that can be an impact on both offense and defense. With his ability to defend multiple positions and operate on multiple levels, he has great timing and reacts/moves very well with his size. That is why he is nearly averaging three blocks per game and has improved in that area each year.
2022 7'0 Christian Reeves (Cannon)
Reeves has faced some tough times with injuries but there is no doubt about it, when he is on the floor, he makes a difference on the defensive side. Reeves brings a long 7-foot frame and even longer when he gets his arms up. Every time we saw Reeves, he simply makes a high wall against opponents and is a legitimate shot-blocker. If he doesn't get his hands on it, he certainly alters shots or makes opponents think about attacking the paint.
2022 6'7 Omarion Bodrick (Combine Academy)
Bodrick is one of the most exciting athletes and shot-blockers that we have seen in the 2022 class. A superb athlete that runs the floor, brings a ton of energy, and simply seems like he can be all over the place. Bodrick moves extremely well and has sensational timing in blocking shots to go with his athleticism. Even at 6'7, he will surprise many and makes a living in blocking shots and running the floor to finish on the other end; he does a terrific job in creating transitional plays for his team.
2022 6'10 Iffy Ufochukwu (Covenant Day)
Iffy already holds multiple offers but he is still a developing big, grasping just what he is capable of doing on the court. But he brings a tremendous 6'10 frame and one thing that he provides is a difference-maker down in the paint. We had this to say about Iffy earlier in the year: "He is a two-way player, using his length to disrupt shots around the rim and mid-range, blocking shots, and rebounding. But he also moves so much better on the court, continuing to run the floor, get his hands ready, and making himself big to finish at the rim."